Butternut Rugosa. Very large butternut type. Ribbed with 'wrinkled' skin. Very sweet and tasty, and much more interesting than the common butternut. Productive and a good keeper. 100 or so days to maturity. Grow as any other winter squash or butternut. After danger of frost, plant in full sun, in rich soil, with plenty of drainage. Large sprawling plant, so give them some room, at least 3-6 feet apart. They can be direct seeded, 1 inch deep, but thin to at least 3 feet.
Article number

8012450702917

EAN code

002790

EAN trade

C26

Brand
Our convenient delivery service is now available!
The charges are calculated by our website based on the postcode you enter which is then applied to your order during the checkout process.
LOCAL, BY VAN
Postcode:
LE15
Delivery Charge: £5.00
---
Postcode:
LE13
Delivery Charge: £10.00
---
Postcode:
LE7, LE14, LE16, LE94, NG33, NN17, NN18, PE9
Delivery Charge: £20.00
---
Postcode:
LE18, LE21, LE4, LE5, LE8, LE87, LE95, NG31, NG32, NN14, NN16, PE10, PE3, PE4, PE5, PE8
Delivery Charge: £25.00
---
Postcode:
LE11, LE12, LE17, LE19, LE3, LE55, LE6, LE9, NG11, NG12, NG13, NG2, NG80, NN15, NN6, NN9, PE1, PE11, PE2, PE6, PE7
Delivery Charge: £30.00
---
Postcode:
LE1, LE10, LE2, LE6, LE67, NG14, NG34, NG9, NN10, NN2, NN3, NN8
Delivery Charge: £45.00
WE DELIVER TO SPECIFIC AREAS FROM TUESDAY TO FRIDAY
When placing your order, as soon as you enter your postcode, the delivery box on the Shopping Cart will indicate the day of the week and the date that your delivery will be scheduled for. At a glance, here's how it works ...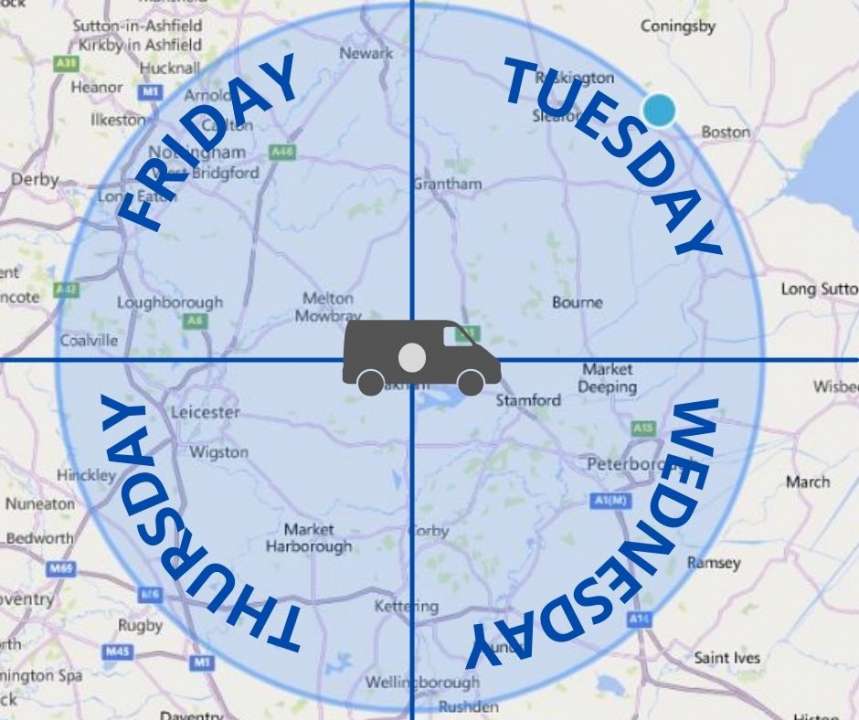 ---
NATIONWIDE DELIVERY
For all other deliveries in the UK that are not mentioned above by postcode, a custom delivery quotation by courier or Royal Mail, based on volume and weight of items purchased will be provided.
CLICK AND COLLECT OPTION
If you prefer to collect, our Click and Collect Service is an alternative to delivery and no charges apply.
Please see our Delivery and Returns Policy for full details.
The Franchi family has been cultivating seeds in Italy since 1783. Today, the Franchi family still hand selects the best Italian seeds to grow some of Italy's most popular vegetables, herbs, and flowers. Many of these are grown for culinary purposes. These are also sustainable plants that will grow happily with little to no care: perfect for novice gardeners or those who don't have space to spare.
View other products from Franchi Seeds from Italy
Are you looking for more information about this product? Please visit our garden centre in Rutland where our friendly and knowledgeable staff is ready to help you.
Rutland Garden Village
Ashwell Road
Langham
Oakham
LE15 7QN
Our friendly staff are ready to help and happy to answer all your questions to help you to make the right choice, so please pop in-store now. See you soon at Rutland Garden Village.
Questions?
Do you have a question about this product? Feel free to send us a message via the form below. We will get back to you as soon as possible. You can also call us at 01572 723583 during our opening hours.
We store your data securely according to our privacy policy.