Enjoy entertaining at night? This built-in firepit set adds something special and provides a lovely warm glow from the middle of the table as well as enough warm light to relax and chat with your friends or family.
Added to all this the fire pit gives out a lot of warmth to keep you all warm and cosy on those chilly nights, way into the small hours! If you don't want to use the firepit feature and need the space to just enjoy a meal or drinks and snacks, there is a cover that goes over the pit and hey presto, it's a normal table again.
We're safety-conscious of course:
This quality product is super safe – the Katie Blake built-in fire pits are made to exacting CE regulations. You can use your fire pit safely as thousands of other happy customers do. There is glass "wall" guarding around the fire. To operation, the fire pit needs a 5 kilogram green gas canister using propane gas (not included in the set). Please ensure you get the correct regulator that fits our tables – it's a standard fitting but just check with your local supplier. We suggest you visit Calor's website if you need further information.
The stunning firepit fits neatly into the glass-topped rattan table and there is a cupboard underneath to store the gas canister. There is also a control on the side of the table base allowing you to adjust the fire even without getting out of your chair. The fire pit supplied for this size of table gives over 50,000 BTU and approximately 6 hours of use on a high setting. It is made using grade 304 stainless steel which is perfect for outdoor use.
What's included:
6 x recliner armchairs
6 x super-comfortable 5mm thick cushions
1 x 1.5m x 0.9m rectangular 8mm glass-topped table with built-in firepit
1 x rectangular firepit cover plate
Colour: Natural weave with taupe cushions
Footprint/area size for ultimate comfort: 3.2m x 3.2m
Material: All-weather, substantial 7mm flat weave Resilient synthetic resin
Additional information:
8mm tempered, UV tested glass table top
Non-rust, strong 15mm aluminium frame
Machine-washable cushion with zips
Designed to withstand regular and heavy use
Not easily damaged
Can be left outside all year round (excl. cushions and with fire-pit cover plate in place)
Large gas fire pit
Control panel Grade 304 stainless steel fittings
8mm glass panels for the firepit
A triple-AAA battery is required for the gas starter (not included).
Warranty/Guarantee
There is a 10-year manufacturer's warranty covering faulty workmanship or defects on the aluminium frame and rattan construction providing Katie Blake furniture covers are put over when not in use.
Cushions and parasols have a 1-year guarantee, providing covered when not in use.
Maintenance
The furniture can be left outdoors permanently requiring no maintenance except a wash with warm soapy water or a pressure washer.
Please note that the cushions and parasol, whilst shower-resistant, must not be left outside permanently or for long periods of time in wet weather otherwise some deterioration will occur.
Assembly
The table needs simple assembly using bolts.
An Allen Key is provided.
Only finger-tighten the table screws until all bolts are located.
The on/off switch needs bolting to the table and the fire pit glass sides needs basic assembling.
Dimensions:
Armchair: 57cm width x 56cm depth x 84cm overall height
Why choose Katie Blake?
The Chatsworth range, designed by Katie Blake, a well-known design specialist, offers fantastic furniture for your garden – combining affordability with superb quality. It is an extremely popular range of outdoor furniture, loved by many families across the UK.
The range features a substantial rattan weave which means it always looks great and is extremely durable against wear and tear as well as the effects of weathering. The rattan weave was selected to withstand the UK weather and winter conditions. Where applicable, the furniture comes with machine-washable cushions with zips.
As the foundation of the Chatsworth range, the material construction features a 7mm flat weave, which is weather resistant and virtually maintenance free. It has a sturdy, rust resistant and lightweight aluminium framework.
All in all, an excellent value-for-money range
EAN code

020839

Brand

Colour

Taupe

Parasol

Yes

Number of chairs

6 chairs

Table shape

Rectangle

Fire pit

Yes, built in

Water resistant

Yes

Warranty

10-year Katie Blake Warranty as detailed

Parasol base weight

20 kg
Our convenient delivery service is now available!
The charges are calculated by our website based on the postcode you enter which is then applied to your order during the checkout process.
LOCAL, BY VAN
Postcode:
LE15
Delivery Charge: £5.00
---
Postcode:
LE13
Delivery Charge: £10.00
---
Postcode:
LE7, LE14, LE16, LE94, NG33, NN17, NN18, PE9
Delivery Charge: £20.00
---
Postcode:
LE18, LE21, LE4, LE5, LE8, LE87, LE95, NG31, NG32, NN14, NN16, PE10, PE3, PE4, PE5, PE8
Delivery Charge: £25.00
---
Postcode:
LE11, LE12, LE17, LE19, LE3, LE55, LE6, LE9, NG11, NG12, NG13, NG2, NG80, NN15, NN6, NN9, PE1, PE11, PE2, PE6, PE7
Delivery Charge: £30.00
---
Postcode:
LE1, LE10, LE2, LE6, LE67, NG14, NG34, NG9, NN10, NN2, NN3, NN8
Delivery Charge: £45.00
WE DELIVER TO SPECIFIC AREAS FROM TUESDAY TO FRIDAY
When placing your order, as soon as you enter your postcode, the delivery box on the Shopping Cart will indicate the day of the week and the date that your delivery will be scheduled for. At a glance, here's how it works ...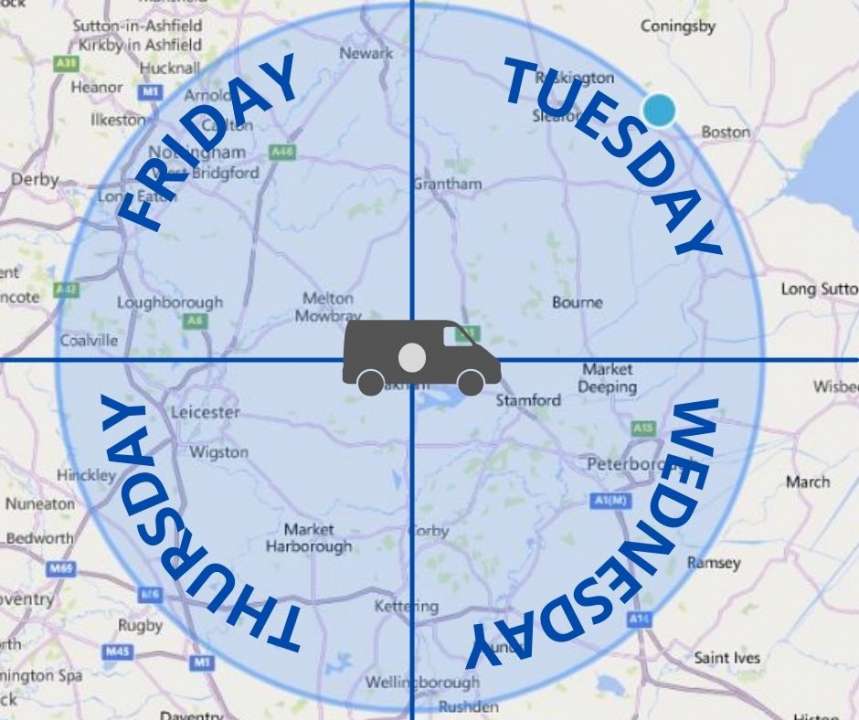 ---
NATIONWIDE DELIVERY
For all other deliveries in the UK that are not mentioned above by postcode, a custom delivery quotation by courier or Royal Mail, based on volume and weight of items purchased will be provided.
CLICK AND COLLECT OPTION
If you prefer to collect, our Click and Collect Service is an alternative to delivery and no charges apply.
Please see our Delivery and Returns Policy for full details.
The beautiful ranges of rattan-effect Katie Blake designed outdoor garden furniture are brought to you by Glencrest Seatex who are one of the leading manufacturing and UK trade suppliers of outdoor garden furniture and accessories. Katie Blake creates modern outdoor furniture with the goal of making your life easier.
View other products from Katie Blake
Are you looking for more information about this product? Please visit our garden centre in Rutland where our friendly and knowledgeable staff is ready to help you.
Rutland Garden Village
Ashwell Road
Langham
Oakham
LE15 7QN
Our friendly staff are ready to help and happy to answer all your questions to help you to make the right choice, so please pop in-store now. See you soon at Rutland Garden Village.
Questions?
Do you have a question about this product? Feel free to send us a message via the form below. We will get back to you as soon as possible. You can also call us at 01572 723583 during our opening hours.
We store your data securely according to our privacy policy.