Rutland Garden Centre Gift Vouchers are a wonderful gift idea for sending to friends or family for Birthdays, Anniversaries, Mother's Day, Father's Day or as an important Thankyou. Our service includes personal handwritten gift message on your behalf or left blank for you to write, and our price includes postage to the chosen recipient's address on your behalf. Choice of alternative delivery address and message is offered during final checkout, and we know our gift certificates are always gratefully received.
Our Gift Certificates are redeemable within 12 months of purchase, on any item in-store, at our garden centre or Village Gift Store. A gift suitable for outdoor gardeners or indoor gardeners alike, with our wide range of plants, houseplants and plant care products, plus wide selection of homewares too.
Available in a range of denominations of £5, £10, £25 or £50.
Vouchers are only available for collection, please bring the card which was used to purchase the voucher with you.
Our convenient delivery service is now available!
The charges are calculated by our website based on the postcode you enter which is then applied to your order during the checkout process.
LOCAL, BY VAN
Postcode:
LE15
Delivery Charge: £5.00
---
Postcode:
LE13
Delivery Charge: £10.00
---
Postcode:
LE7, LE14, LE16, LE94, NG33, NN17, NN18, PE9
Delivery Charge: £20.00
---
Postcode:
LE18, LE21, LE4, LE5, LE8, LE87, LE95, NG31, NG32, NN14, NN16, PE10, PE3, PE4, PE5, PE8
Delivery Charge: £25.00
---
Postcode:
LE11, LE12, LE17, LE19, LE3, LE55, LE6, LE9, NG11, NG12, NG13, NG2, NG80, NN15, NN6, NN9, PE1, PE11, PE2, PE6, PE7
Delivery Charge: £30.00
---
Postcode:
LE1, LE10, LE2, LE6, LE67, NG14, NG34, NG9, NN10, NN2, NN3, NN8
Delivery Charge: £45.00
WE DELIVER TO SPECIFIC AREAS FROM TUESDAY TO FRIDAY
When placing your order, as soon as you enter your postcode, the delivery box on the Shopping Cart will indicate the day of the week and the date that your delivery will be scheduled for. At a glance, here's how it works ...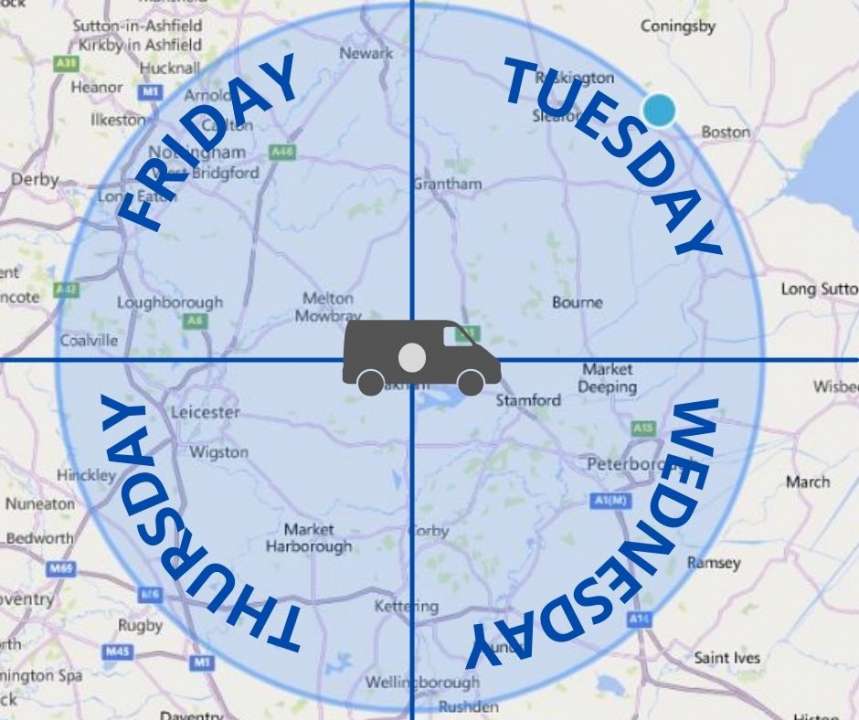 ---
NATIONWIDE DELIVERY
For all other deliveries in the UK that are not mentioned above by postcode, a custom delivery quotation by courier or Royal Mail, based on volume and weight of items purchased will be provided.
CLICK AND COLLECT OPTION
If you prefer to collect, our Click and Collect Service is an alternative to delivery and no charges apply.
Please see our Delivery and Returns Policy for full details.
Are you looking for more information about this product? Please visit our garden centre in Rutland where our friendly and knowledgeable staff is ready to help you.
Rutland Garden Village
Ashwell Road
Langham
Oakham
LE15 7QN
Our friendly staff are ready to help and happy to answer all your questions to help you to make the right choice, so please pop in-store now. See you soon at Rutland Garden Village.
Questions?
Do you have a question about this product? Feel free to send us a message via the form below. We will get back to you as soon as possible. You can also call us at 01572 723583 during our opening hours.
We store your data securely according to our privacy policy.