Rutland Garden Centre & Village
There has been a garden centre on this site near Ashwell, 3 miles north of Oakham in Rutland, since 1979. Rutland is England's smallest county, a hidden gem surprisingly well-connected to the Midlands' heartland cities of Peterborough, Leicester and Nottingham.
Known as "The County of Good Taste", Rutland is famed for its picture-perfect villages and rolling countryside as well as Rutland Water with water sports, cycling, sailing and fishing; a Nature Reserve (including seasonally nesting Ospreys); the market towns of Oakham and Uppingham, both of which house boarding schools dating back to 1584 and still thriving today.
This proud county houses many an enthusiastic gardener and Rutland Garden Centre prides itself on being a "Gardeners Garden Centre" where you can find quality, well-sourced plants; advice from our Horticultural experts and friendly team; plus everything a novice or expert gardener could need - from compost to conifers, bedding plants to fruit trees, gardening gloves to quality tools and landscaping materials. Our range of plants suit all gardens, budgets and tastes and we are renown for our more unusual horticultural finds and statement specimen plants.
In 2014 a retail village was built alongside the Garden Centre forming a handsome quadrangle around a children's adventure playground, seating, picnic tables and landscaped centre.
2019 - Barefoot Sunday, a beautifully curated lifestyle and homeware store opens.
2020 – The Garden Village Store opens, housing an extended range of houseplants, pots & gifts.
2021 – Now hosting superb arts, crafts and small business events, a stunning new Cakery, new specialist shops.
2022 – Radish (our new renovated restaurant) has opened its doors.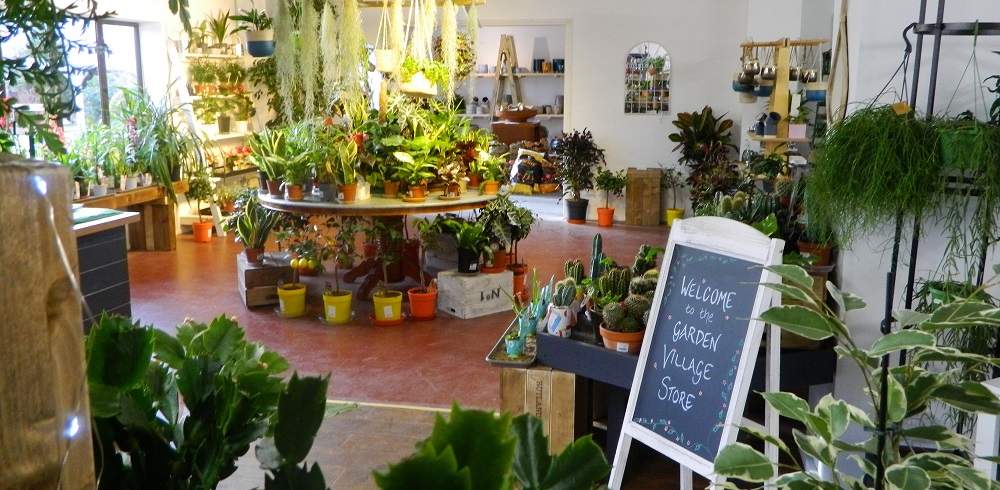 A nice garden centre in Rutland and around
Everyone loves a lovely garden where flowers thrive and butterflies fly around. Thanks to the wide array of gardening products available at the garden centre, you too can live this dream. Just for you, Rutland Garden Village has all kinds of products, such as outdoor plants and garden furniture. The store offers local delivery and click & collect services. No matter what you're looking for, Rutland Garden Village near Oakham, has it. Besides the range of products for your garden, a visit to our garden centre also includes some other great extras for you to enjoy. Relax and unwind after a long day of shopping in the Cakery, situation in the Village Garden Store or grab a bite to eat at Radish, our on site restaurant.
Our garden village near Stamford and Corby
Are you looking for products to ensure a gorgeous green garden? Then you came to the right place at Rutland Garden Village. For instance, have a look at our wide array of outdoor plants that will enhance your garden in an instant. Whether you are looking for new bedding plants or an eye-catching fruit tree, Rutland Garden Village has everything you're looking for. Our Garden centre has everything in store to give your outdoor plants the best care possible. Gardening tools, compost and bulbs and seeds are all part of the assortment. Come and visit us soon!
Beautiful garden furniture for sale
Enjoy your beautiful garden by adding in some amazing garden furniture for sale at Rutland Garden Village. The garden furniture is made from sustainable materials of high quality and will last you for years. Rutland Garden Village has garden furniture in all shapes and sizes available for you, and even sells products from renowned garden furniture brands. Pay the store near Oakham, Market Harborough and Melton Mowbray a visit today! Whether you are looking for a nice lounge set, a set of nice garden pillows or a yard set, you will find it at Rutland Garden Village! Besides furniture, other accessories for your garden and home are also available here at the garden centre, like Outdoor pots, Vintage garden shop products and aggregates. Don't hesitate to ask our staff for expert advice on all our products.
This is where you can find Rutland Garden Village