Come and join us ...
Enjoy a day out at Rutland Garden Village and support small businesses in Rutland and surrounding areas.
At Rutland Garden Village we want to do what we can for local enterprise. We have a large site, great footfall, and a genuine desire to work collaboratively with other businesses, producers, artists, artisans and crafters.
Please contact the Rutland Garden Village via email at events@rutlandgardenvillage.co.uk or call 01572 723583 for any additional information on our events.
For the events and booking form please email Amanda at events@rutlandgardenvillage.co.uk
Tarot Card Reading Event
We are delighted to be hosting Diana in The Cakery on Wednesday 18th October for private tarot card readings.
Bookings are made by calling Diana herself on 07932 135933, each space is for 30 minutes. Please note that payment is to be made in advance directly to Diana.
The cost is £25 and this includes a drink and cake from The Cakery.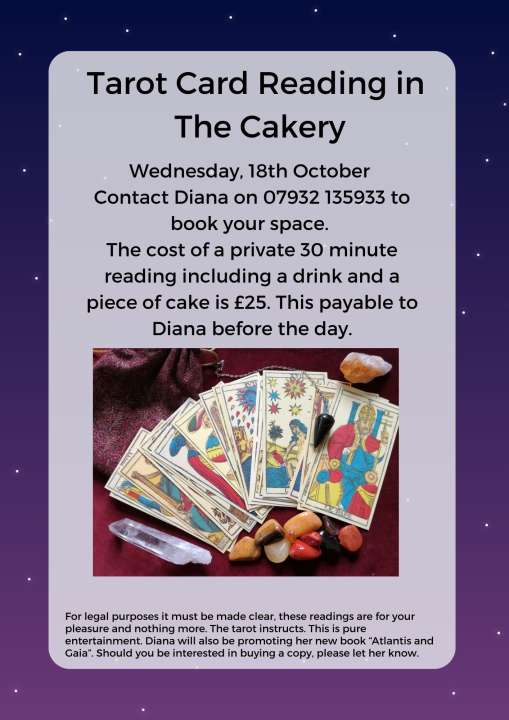 Santea
Santa was so impressed with the children who came to visit him last Christmas here at Rutland Garden Village that he has asked if he can join us again this year!! Santa has requested that we celebrate his visit with either Rudolf's Bestest Brunch or Afternoon Santea. Very happy to do that Santa!!
Booking forms are available in the garden centre shop. We are offering 1 hour slots over 4 dates and this includes brunch or Santea, a festive story with Mrs Claus and a gift. Parents are not required to pay/eat to attend but you are most welcome to do so if you're peckish!!
To book or for more information please call the garden centre on 01572 723583 or email Amanda (Santa's 'not so' little elf) at: events@rutlandgardenvillage.co.uk
Festive Fair
The Festive Fairs are being held on the 4th and 5th November and 2nd and 3rd December and we are now taking bookings for local crafters, artisans and cottage industries to book spaces to sell their items! For bookings please email Amanda at events@rutlandgardenvillage.co.uk.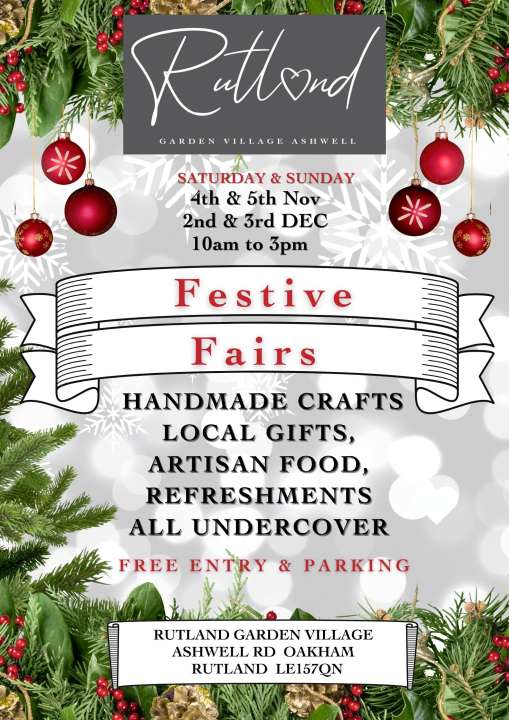 October 31st: £30 pp
Meal: A seasonal chilli supper and nibbles for the table which is includied in the ticket price.
Location: The Radish
December: £30pp
Meal: A delicious lasagne supper and nibbles for the table included in the ticket price. This is an ideal company Christmas Night Out!
Location: The Radish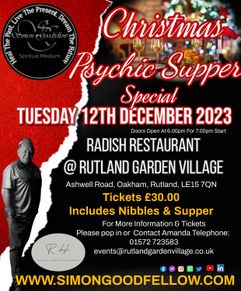 All drinks and desserts are sold separately.
How our Psychic Supper will run:
The session starts around 7pm, but doors will open at 6pm to allow everybody to purchase their drinks and get seated. Simon tries to greet each individual on arrival to enable him to tune in to his spirit guides. He does this by playing a piece of music at the start of the session.

Simon aims to start at 7.00pm and does a full hour of Mediumship (passing messages from Spirit) & Psychometry (this is where Simon will asks people for an item i.e. jewellery, keys, phone, watch etc and then give that person information on their lives past, present & future).

Simon finishes around 8.00pm, and this is when food is seved and allows you to unwind after the session or give you the opportunity to speak about your experiences.

To give you a little insight, Simon has been a professional Spiritual Medium for 20 years. Simon does not waste any time trying to find where and who a message belongs too, he will go directly to that person. This enables Simon to work very quickly and hopefully gets to speak to all in the group (not guaranteed)

We look forward to seeing you there!