Antoinette is a soft light pink Chalk Paint® colour inspired by the decorative pieces and interiors of 18th Century France, when the finest red earths were mixed with white and used to make a dusky pale pastel for walls.
Article number

5060621620891

EAN code

021188

EAN trade

P053ANT.X101.01

Brand
Our convenient delivery service is now available!
The charges are calculated by our website based on the postcode you enter which is then applied to your order during the checkout process.
LOCAL, BY VAN
Postcode:
LE15
Delivery Charge: £5.00
---
Postcode:
LE13
Delivery Charge: £10.00
---
Postcode:
LE7, LE14, LE16, LE94, NG33, NN17, NN18, PE9
Delivery Charge: £20.00
---
Postcode:
LE18, LE21, LE4, LE5, LE8, LE87, LE95, NG31, NG32, NN14, NN16, PE10, PE3, PE4, PE5, PE8
Delivery Charge: £25.00
---
Postcode:
LE11, LE12, LE17, LE19, LE3, LE55, LE6, LE9, NG11, NG12, NG13, NG2, NG80, NN15, NN6, NN9, PE1, PE11, PE2, PE6, PE7
Delivery Charge: £30.00
---
Postcode:
LE1, LE10, LE2, LE6, LE67, NG14, NG34, NG9, NN10, NN2, NN3, NN8
Delivery Charge: £45.00
WE DELIVER TO SPECIFIC AREAS FROM TUESDAY TO FRIDAY
When placing your order, as soon as you enter your postcode, the delivery box on the Shopping Cart will indicate the day of the week and the date that your delivery will be scheduled for. At a glance, here's how it works ...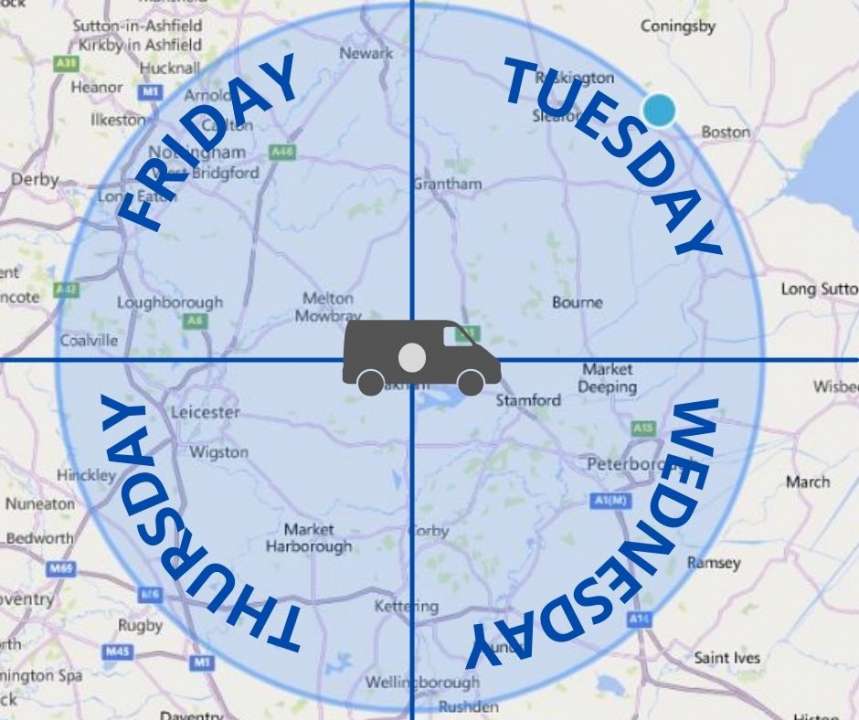 ---
NATIONWIDE DELIVERY
For all other deliveries in the UK that are not mentioned above by postcode, a custom delivery quotation by courier or Royal Mail, based on volume and weight of items purchased will be provided.
CLICK AND COLLECT OPTION
If you prefer to collect, our Click and Collect Service is an alternative to delivery and no charges apply.
Please see our Delivery and Returns Policy for full details.
Annie Sloan invented her revolutionary furniture paint, Chalk Paint®, in 1990 and hasn't stopped refining and improving her formula since. She is widely considered one of the world's leading authorities in paint, colour and style.
Nobody is better qualified to invent and manufacture Chalk Paint®. Annie's first book, The Complete Book of Decorative Paint Techniques, was published in 1988. Since then she has published 26 books on paint effects, colour and Interior Design.
The invention of Chalk Paint® resulted from Annie's need for a paint which could be used to achieve endless decorative effects – and quickly. Chalk Paint® satisfies that brief perfectly, as it can be applied to wood, glass, metal, brick and even laminate, left to dry, and then waxed within one day. This helped to accommodate for Annie's busy lifestyle as a working mother to three boys.
View other products from Annie Sloan Chalk Paint
Are you looking for more information about this product? Please visit our garden centre in Rutland where our friendly and knowledgeable staff is ready to help you.
Rutland Garden Village
Ashwell Road
Langham
Oakham
LE15 7QN
Our friendly staff are ready to help and happy to answer all your questions to help you to make the right choice, so please pop in-store now. See you soon at Rutland Garden Village.
Questions?
Do you have a question about this product? Feel free to send us a message via the form below. We will get back to you as soon as possible. You can also call us at 01572 723583 during our opening hours.
We store your data securely according to our privacy policy.