Champions Blend Peat-Free Extra Large Planter Growbag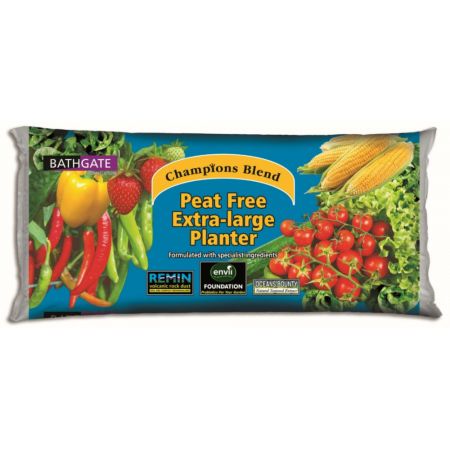 Stock
Out of stock online, please enquire
Free local delivery for online orders over £50 to the E15 and PE9 area. Applies to gardening products only. Regional and national delivery quotes available upon request.

Click & Collect.

*Order by 3 PM for next day collection.

Questions? 01572 723583 or fill out the enquiries form
Champions Blend Peat-Free Extra Large Planter Growbag
Stock
Out of stock online, please enquire
Free local delivery for online orders over £50 to the E15 and PE9 area. Applies to gardening products only. Regional and national delivery quotes available upon request.

Click & Collect.

*Order by 3 PM for next day collection.

Questions? 01572 723583 or fill out the enquiries form
Champions Blend peat-free compost contains a blend of natural certified ingredients, manufactured to the Soil Association's strictest standards. Great planter designed for growing short root veg such as tomatoes, cucumbers and strawberries. Growers are already surprised how this peat-free blend really performs well versus other peat-free products. Bathgate Peat-Free has a wonderful texture and does not dry out too fast making watering less frequent as per other peat-free composts.
Growbag shaped extra large planter suitable for ease-of-use, laid down on a patio or greenhouse staging plant bench.
Article number

0797776523788

EAN code

022779

Brand
Delivery information
If you are unsure about anything regarding delivery of your order, please call us on 01572 723583 or email info@rutlandgardenvillage.co.uk
We offer free delivery to LE15 and PE9 postcodes for purchases over £50 except for garden furniture. £5 delivery charge to LE15 and PE9 postcodes for purchases under £50
Furniture delivery
Furniture is currently available for Click&Collect or home-delivery in the LE15 and P9 postcodes: delivery fee is £50.
Outside of these areas? Click and collect is available or contact us to request a quote for delivery/postage
Questions?
Do you have a question about this product? Feel free to send us a message via the form below. We will get back to you as soon as possible. You can also call us at 01572 723583 during our opening hours.
We store your data securely according to our privacy policy.