Using the Chatsworth waterproof cushion box will make them last!
Katie Blake's large storage boxes are the ideal solution for storing cushions or other outdoor items needing protection from poor weather... our storage boxes include a zip-up inner liner for extra protection.
We do not recommend leaving cushions in the storage box over the winter or in very heavy rain.
Assembly: Supplied 'flat pack'. Easy assembly. Clear instructions are provided.
Why choose Katie Blake?
The Chatsworth range, designed by Katie Blake, a well-known design specialist, offers fantastic furniture for your garden – combining affordability with superb quality. It is an extremely popular range of outdoor furniture, loved by many families across the UK.
The range features a substantial rattan weave which means it always looks great and is extremely durable against wear and tear as well as the effects of weathering. The rattan weave was selected to withstand the UK weather and winter conditions. Where applicable, the furniture comes with machine-washable cushions with zips.
As the foundation of the Chatsworth range, the material construction features a 7mm flat weave, which is weather resistant and virtually maintenance free. It has a sturdy, rust resistant and lightweight aluminium framework.
All in all, an excellent value-for-money range.
EAN code

020846

Brand

Colour

Grey

Width (cm)

80.00

Height (cm)

105.00

Length (cm)

122.00

Water resistant

Yes

Warranty

10-year Katie Blake Warranty as detailed
Our convenient delivery service is now available!
The charges are calculated by our website based on the postcode you enter which is then applied to your order during the checkout process.
LOCAL, BY VAN
Postcode:
LE15
Delivery Charge: £5.00
---
Postcode:
LE13
Delivery Charge: £10.00
---
Postcode:
LE7, LE14, LE16, LE94, NG33, NN17, NN18, PE9
Delivery Charge: £20.00
---
Postcode:
LE18, LE21, LE4, LE5, LE8, LE87, LE95, NG31, NG32, NN14, NN16, PE10, PE3, PE4, PE5, PE8
Delivery Charge: £25.00
---
Postcode:
LE11, LE12, LE17, LE19, LE3, LE55, LE6, LE9, NG11, NG12, NG13, NG2, NG80, NN15, NN6, NN9, PE1, PE11, PE2, PE6, PE7
Delivery Charge: £30.00
---
Postcode:
LE1, LE10, LE2, LE6, LE67, NG14, NG34, NG9, NN10, NN2, NN3, NN8
Delivery Charge: £45.00
WE DELIVER TO SPECIFIC AREAS FROM TUESDAY TO FRIDAY
When placing your order, as soon as you enter your postcode, the delivery box on the Shopping Cart will indicate the day of the week and the date that your delivery will be scheduled for. At a glance, here's how it works ...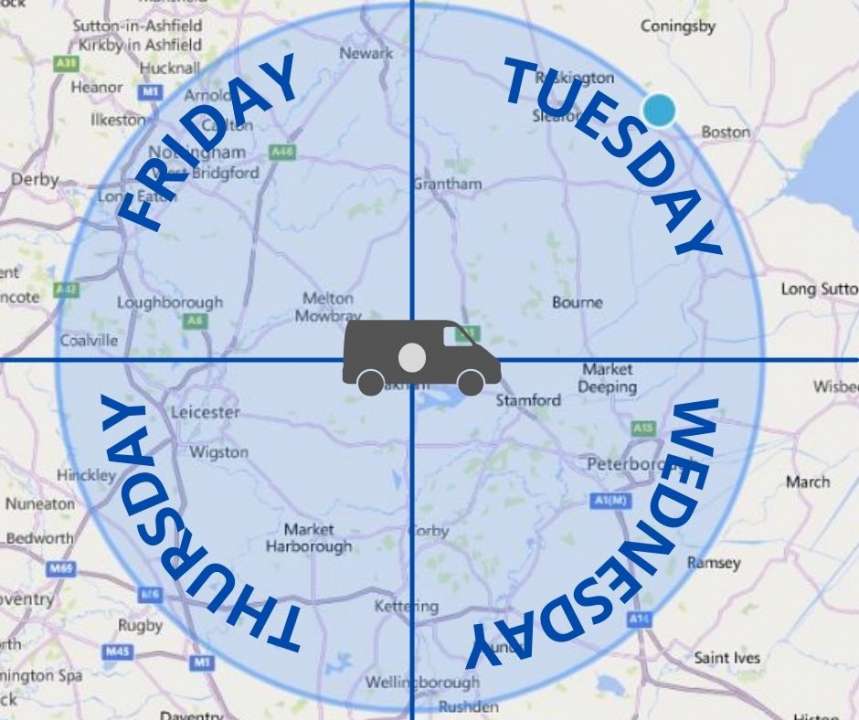 ---
NATIONWIDE DELIVERY
For all other deliveries in the UK that are not mentioned above by postcode, a custom delivery quotation by courier or Royal Mail, based on volume and weight of items purchased will be provided.
CLICK AND COLLECT OPTION
If you prefer to collect, our Click and Collect Service is an alternative to delivery and no charges apply.
Please see our Delivery and Returns Policy for full details.
The beautiful ranges of rattan-effect Katie Blake designed outdoor garden furniture are brought to you by Glencrest Seatex who are one of the leading manufacturing and UK trade suppliers of outdoor garden furniture and accessories. Katie Blake creates modern outdoor furniture with the goal of making your life easier.
View other products from Katie Blake
Are you looking for more information about this product? Please visit our garden centre in Rutland where our friendly and knowledgeable staff is ready to help you.
Rutland Garden Village
Ashwell Road
Langham
Oakham
LE15 7QN
Our friendly staff are ready to help and happy to answer all your questions to help you to make the right choice, so please pop in-store now. See you soon at Rutland Garden Village.
Questions?
Do you have a question about this product? Feel free to send us a message via the form below. We will get back to you as soon as possible. You can also call us at 01572 723583 during our opening hours.
We store your data securely according to our privacy policy.