'On Borrowed Time' Paperback (Adam Croft)
Stock
Out of stock online, please enquire
Convenient delivery options! See Delivery tab for details of applicable charges and day of the week for your area.

Click & Collect.

*Order by 3PM for next day collection. Excluding Whistler Grills & Albany Shed Co full collections.

Questions? 01572 723583 or fill out the enquiries form
'On Borrowed Time' Paperback (Adam Croft)

Stock
Out of stock online, please enquire
Convenient delivery options! See Delivery tab for details of applicable charges and day of the week for your area.

Click & Collect.

*Order by 3PM for next day collection. Excluding Whistler Grills & Albany Shed Co full collections.

Questions? 01572 723583 or fill out the enquiries form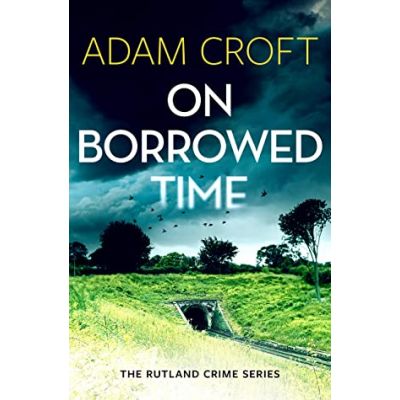 'On Borrowed Time' Paperback (Adam Croft)
'On Borrowed Time' Paperback (Adam Croft) is the second book in an exciting crime series set in the tiny county of Rutland. A real place, it is the smallest county in England, heavily rural and dominated by Rutland Water. DI Caroline Hills relocated from the Met in London accompanied by her two sons and husband Mark. With crime on the increase and one son getting bullied at school, it was a choice that benefited the whole family. Caroline was often the senior investigating officer into some major crimes in London....
2 Million Copy Best Seller!
Article number

9781912599493

EAN code

020660

Brand
Our convenient delivery service is now available!
The charges are calculated by our website based on the postcode you enter which is then applied to your order during the checkout process.
LOCAL, BY VAN
Postcode:
LE15
Delivery Charge: £5.00
---
Postcode:
LE13
Delivery Charge: £10.00
---
Postcode:
LE7, LE14, LE16, LE94, NG33, NN17, NN18, PE9
Delivery Charge: £20.00
---
Postcode:
LE18, LE21, LE4, LE5, LE8, LE87, LE95, NG31, NG32, NN14, NN16, PE10, PE3, PE4, PE5, PE8
Delivery Charge: £25.00
---
Postcode:
LE11, LE12, LE17, LE19, LE3, LE55, LE6, LE9, NG11, NG12, NG13, NG2, NG80, NN15, NN6, NN9, PE1, PE11, PE2, PE6, PE7
Delivery Charge: £30.00
---
Postcode:
LE1, LE10, LE2, LE6, LE67, NG14, NG34, NG9, NN10, NN2, NN3, NN8
Delivery Charge: £45.00
WE DELIVER TO SPECIFIC AREAS FROM TUESDAY TO FRIDAY
When placing your order, as soon as you enter your postcode, the delivery box on the Shopping Cart will indicate the day of the week and the date that your delivery will be scheduled for. At a glance, here's how it works ...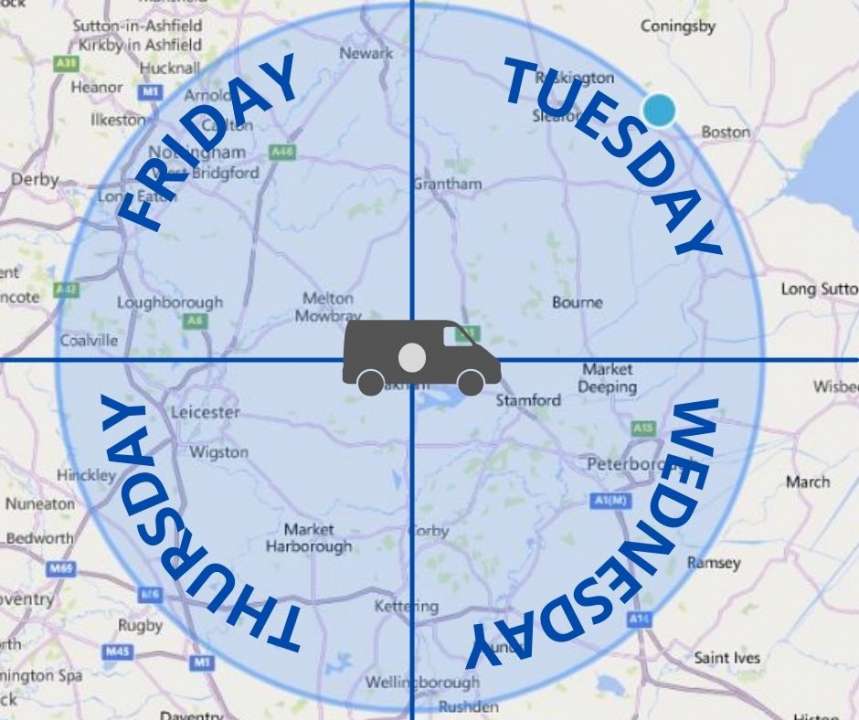 ---
NATIONWIDE DELIVERY
For all other deliveries in the UK that are not mentioned above by postcode, a custom delivery quotation by courier or Royal Mail, based on volume and weight of items purchased will be provided.
CLICK AND COLLECT OPTION
If you prefer to collect, our Click and Collect Service is an alternative to delivery and no charges apply.
Please see our Delivery and Returns Policy for full details.
Are you looking for more information about this product? Please visit our garden centre in Rutland where our friendly and knowledgeable staff is ready to help you.
Rutland Garden Village
Ashwell Road
Langham
Oakham
LE15 7QN
Our friendly staff are ready to help and happy to answer all your questions to help you to make the right choice, so please pop in-store now. See you soon at Rutland Garden Village.
Questions?
Do you have a question about this product? Feel free to send us a message via the form below. We will get back to you as soon as possible. You can also call us at 01572 723583 during our opening hours.
We store your data securely according to our privacy policy.