Fiskars PowerGear™ Bypass Lopper, Hook Head (M) L74 is a mid sized lopper for tree pruning and other heavier cutting tasks. Its handles are made from FiberComp to make them extremely lightweight and strong while its patented PowerGear™ mechanism makes the cutting 3 times easier compared to standard mechanisms. The blades are made from extra hard, corrosion resistant steel (CrMoV, HRC 60) ensuring that they stay sharper for longer and this quality is further enhanced by non stick PTFE coating on upper blade to reduce friction and make cutting and cleaning easier. The special hook head blade design is perfect for heavy cutting of fresh wood, for example cutting tree branches.
Article number

6411501122902

EAN code

018948

EAN trade

1000582

Brand
Our convenient delivery service is now available!
The charges are calculated by our website based on the postcode you enter which is then applied to your order during the checkout process.
LOCAL, BY VAN
Postcode:
LE15
Delivery Charge: £5.00
---
Postcode:
LE13
Delivery Charge: £10.00
---
Postcode:
LE7, LE14, LE16, LE94, NG33, NN17, NN18, PE9
Delivery Charge: £20.00
---
Postcode:
LE18, LE21, LE4, LE5, LE8, LE87, LE95, NG31, NG32, NN14, NN16, PE10, PE3, PE4, PE5, PE8
Delivery Charge: £25.00
---
Postcode:
LE11, LE12, LE17, LE19, LE3, LE55, LE6, LE9, NG11, NG12, NG13, NG2, NG80, NN15, NN6, NN9, PE1, PE11, PE2, PE6, PE7
Delivery Charge: £30.00
---
Postcode:
LE1, LE10, LE2, LE6, LE67, NG14, NG34, NG9, NN10, NN2, NN3, NN8
Delivery Charge: £45.00
WE DELIVER TO SPECIFIC AREAS FROM TUESDAY TO FRIDAY
When placing your order, as soon as you enter your postcode, the delivery box on the Shopping Cart will indicate the day of the week and the date that your delivery will be scheduled for. At a glance, here's how it works ...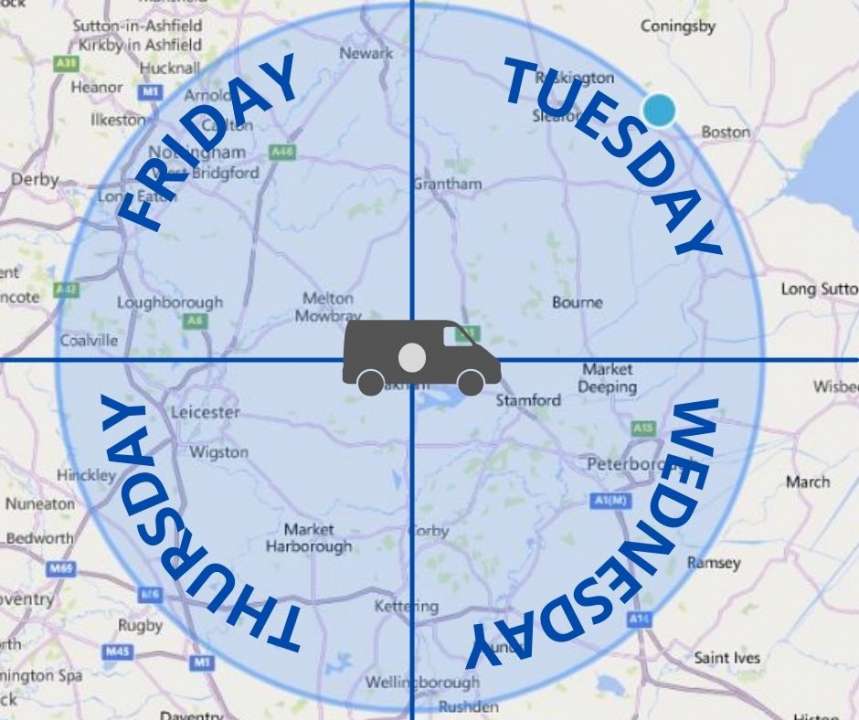 ---
NATIONWIDE DELIVERY
For all other deliveries in the UK that are not mentioned above by postcode, a custom delivery quotation by courier or Royal Mail, based on volume and weight of items purchased will be provided.
CLICK AND COLLECT OPTION
If you prefer to collect, our Click and Collect Service is an alternative to delivery and no charges apply.
Please see our Delivery and Returns Policy for full details.
Fiskars is a company with more than 400 years of experience in crafting high-quality gardening tools. The first Fiskars tools were made in 1649 by Finnish swordsmith and cutlery maker Lauri Pekuri. From its modest start, the company has grown to become the world's leading manufacturer of scissors, knives, shears, and other outdoor cutting tools. There's no task too big or too small for our award-winning garden tools. Whether you're looking for shears, pruners, or just a new set of sheers to tackle your next cutting project - we have you covered for all your gardening needs.
View other products from Fiskars
Are you looking for more information about this product? Please visit our garden centre in Rutland where our friendly and knowledgeable staff is ready to help you.
Rutland Garden Village
Ashwell Road
Langham
Oakham
LE15 7QN
Our friendly staff are ready to help and happy to answer all your questions to help you to make the right choice, so please pop in-store now. See you soon at Rutland Garden Village.
Questions?
Do you have a question about this product? Feel free to send us a message via the form below. We will get back to you as soon as possible. You can also call us at 01572 723583 during our opening hours.
We store your data securely according to our privacy policy.