The Gardener's Multi-Purpose Compost is produced from premium grade Irish blended peat. Milled and graded to produce a quality growing media. It also has the correct nutrient and trace element balance to ensure healthy plants, vibrant flowers and quality fruit.
This multi-purpose compost offers the best planting conditions, therefore making it ideal for use all around the garden. It provides a ready source nutrients and minerals that will feed your plants for up to 4-5 weeks.
Features and Benefits
50 Litre
Balanced peat blend
Enriched with nutrients to last 4-5 weeks
The traditional range for the experienced gardener
Absorbs water for strong root and plant growth
Perfect for plants, vegetables, trees and shrubs
Article number

5023377002113

EAN code

009949

EAN trade

11300001

Brand
Our convenient delivery service is now available!
The charges are calculated by our website based on the postcode you enter which is then applied to your order during the checkout process.
LOCAL, BY VAN
Postcode:
LE15
Delivery Charge: £5.00
---
Postcode:
LE13
Delivery Charge: £10.00
---
Postcode:
LE7, LE14, LE16, LE94, NG33, NN17, NN18, PE9
Delivery Charge: £20.00
---
Postcode:
LE18, LE21, LE4, LE5, LE8, LE87, LE95, NG31, NG32, NN14, NN16, PE10, PE3, PE4, PE5, PE8
Delivery Charge: £25.00
---
Postcode:
LE11, LE12, LE17, LE19, LE3, LE55, LE6, LE9, NG11, NG12, NG13, NG2, NG80, NN15, NN6, NN9, PE1, PE11, PE2, PE6, PE7
Delivery Charge: £30.00
---
Postcode:
LE1, LE10, LE2, LE6, LE67, NG14, NG34, NG9, NN10, NN2, NN3, NN8
Delivery Charge: £45.00
WE DELIVER TO SPECIFIC AREAS FROM TUESDAY TO FRIDAY
When placing your order, as soon as you enter your postcode, the delivery box on the Shopping Cart will indicate the day of the week and the date that your delivery will be scheduled for. At a glance, here's how it works ...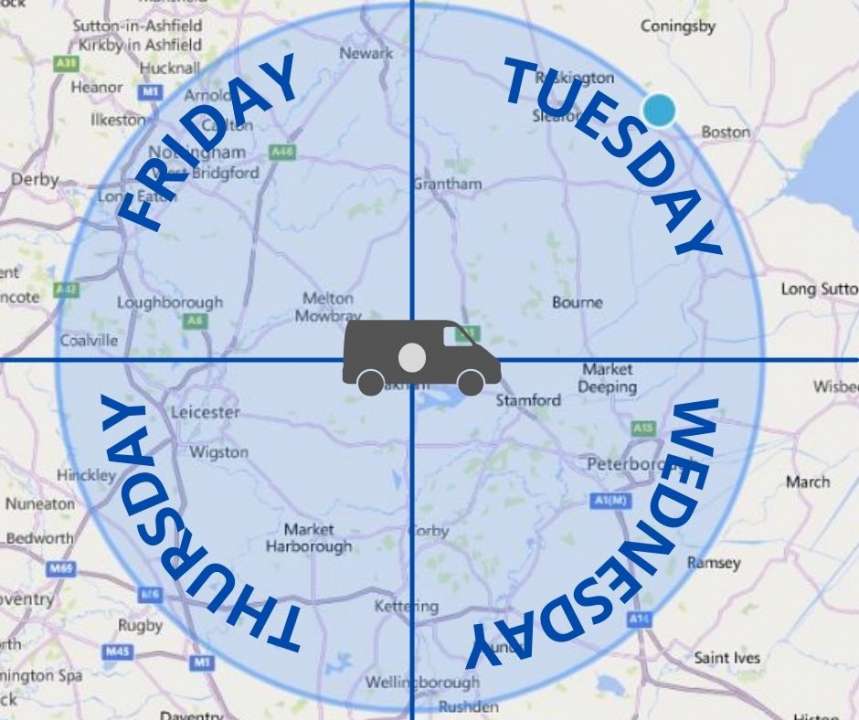 ---
NATIONWIDE DELIVERY
For all other deliveries in the UK that are not mentioned above by postcode, a custom delivery quotation by courier or Royal Mail, based on volume and weight of items purchased will be provided.
CLICK AND COLLECT OPTION
If you prefer to collect, our Click and Collect Service is an alternative to delivery and no charges apply.
Please see our Delivery and Returns Policy for full details.
Westland is all about getting people excited about growing, maintaining their green spaces, and living in a more sustainable world. All of our products are designed to create an inviting place for plants to grow and thrive. Our potting mixes are nutrient-rich and our plant foods are specially formulated to provide the best care for your garden. We also offer a wide selection of indoor gardening essentials, like soil and fertilizers. The Westland brands are well-known in the UK for our diverse selection of gardening products to create the perfect outdoor space. From potting mix and soil to liquid plant food, we have everything you need to get your garden off on the right foot.
View other products from Westland
Are you looking for more information about this product? Please visit our garden centre in Rutland where our friendly and knowledgeable staff is ready to help you.
Rutland Garden Village
Ashwell Road
Langham
Oakham
LE15 7QN
Our friendly staff are ready to help and happy to answer all your questions to help you to make the right choice, so please pop in-store now. See you soon at Rutland Garden Village.
Questions?
Do you have a question about this product? Feel free to send us a message via the form below. We will get back to you as soon as possible. You can also call us at 01572 723583 during our opening hours.
We store your data securely according to our privacy policy.